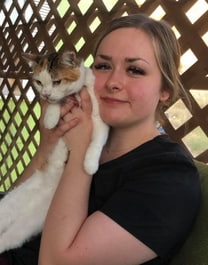 I am a long-time cat mom living in California, who also has experience fostering, rescuing, and caring for neonatal, sick, and special needs cats. The photo is me at an open house working at a special needs animal sanctuary. I'm holding one of our special needs cats.
When I'm not bottle feeding a kitten, I'm researching more ways that I can make my own kitties happier and healthier.
As a writer and cat lover, it's important to me that I provide cat owners and enthusiasts with the most accurate information to help their furry friends live their best lives!