Archie Cat is here to give you the most useful advice, so you and your cat can have the best possible experiences. The articles are written by experienced cat owners and a vet, who are also experienced writers.
All our articles are carefully researched and go through a thorough fact-checking process before they are published.
Here is our team:
Writer: Lisa Aharon
Lisa is definitely a 'cat person'. She has had many felines so far in her life, beginning at age 7 with a tortoise shell kitten which was being given away in a park.
She now 'fosters' cats which wander off the street into her garden.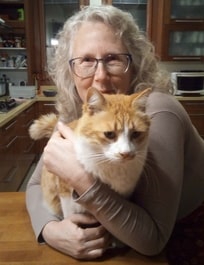 ---
Writer: Samantha Devine.
Samantha Devine is a practicing veterinarian who works in general practice with a variety of animals, from guinea pigs to dogs. She enjoys educating clients so that her patients live happier and healthier lives.
When she's not working at her hospital, she can be found spending time reading or playing with her dogs, cats, or horses.

---
Writer: Jean Brewer
Animals have always been a large part of my life, having lived in the country for most of my life.
Cats, dogs, goats, and sheep have all been my companions, and I have found them to willing sidekicks for my mini-adventures.
---
Writer: Katelynn Sobus
I am a freelance writer who specializes in the pet industry.
My biggest passion is educating pet owners about the health and wellbeing of my furry friends.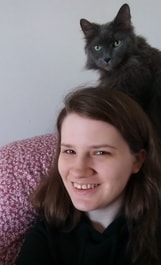 ---
Writer: Andrew Miles
I love cats, and I grew up with them being in the house.
My partner and I adopted a kitten at the end of 2019.

---
Writer: Flora Ojow
Flora has been a freelance writer for 5 years working from home. She enjoys writing about domestic animals and is an avid lover of cats.
She has kept cats as pets ever since her childhood and enjoys discovering new things every day about her feline friends.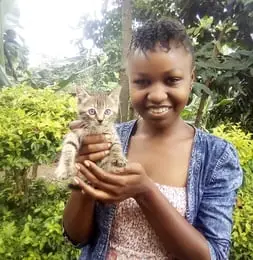 ---
Writer: Mary Innes
I'm a cat lover who's been freelance writing for the past nine years, and I'm happily combining these two passions here, writing articles for Archie Cat.
I love cats and other animals because they are such great friends, and they can teach us to be more humane and better humans. Just ask my Kitty, and she will tell you, "Meow!"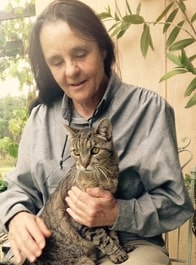 ---
Writer: Cyril Balahadia
A mom to two cats and a foster parent to one, Cyril spends her weekends volunteering at an animal shelter.
She's currently in the process of getting her Veterinary Assistant Certificate at Cape Cod Community College.

---
Writer: Rachel Cribby
I am a writer and life-long cat lover from Canada. My degrees are in creative writing and urban studies
When I'm not writing, I can be found drinking tea or playing music.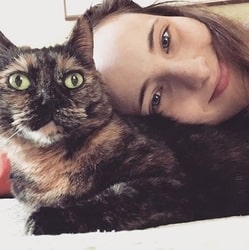 ---
Writer: Ian Taylor
I write about the things I have learned about cats from having Archie, as well as Hayley who was before him. Both were rescue cats, so there was loads for me to learn.
I also do thorough research and fact-checking to make sure what I write is accurate and the best it can be.
---
Writer: Audrey
I am a long-time cat mom living in California, who also has experience fostering, rescuing, and caring for neonatal, sick, and special needs cats. The photo is me at an open house working at a special needs animal sanctuary. I'm holding one of our special needs cats.
When I'm not bottle feeding a kitten, I'm researching more ways that I can make my own kitties happier and healthier.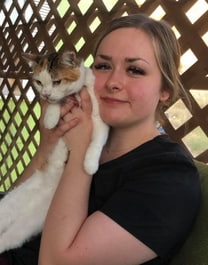 As a writer and cat lover, it's important to me that I provide cat owners and enthusiasts with the most accurate information to help their furry friends live their best lives!