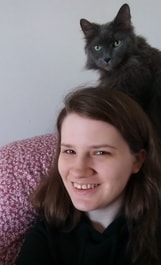 I am a freelance writer who specializes in the pet industry. 
My biggest passion is educating pet owners about the health and wellbeing of my furry friends. Advocacy of animal rescue is also a big part of my life, and have 10 purrfect rescue pets of my own.
As a lifelong pet owner, I am constantly seeking more information about animals—whether it be about their health, or comparing toys and treats to buy my spoiled pack of rescues! One of my favorite things about pet writing is being able to learn so much on the job.
My current home is in Michigan with my many pets.